KSCAPE'S RAIL Nominated For Audio Technology Of The Year In The AV Awards 23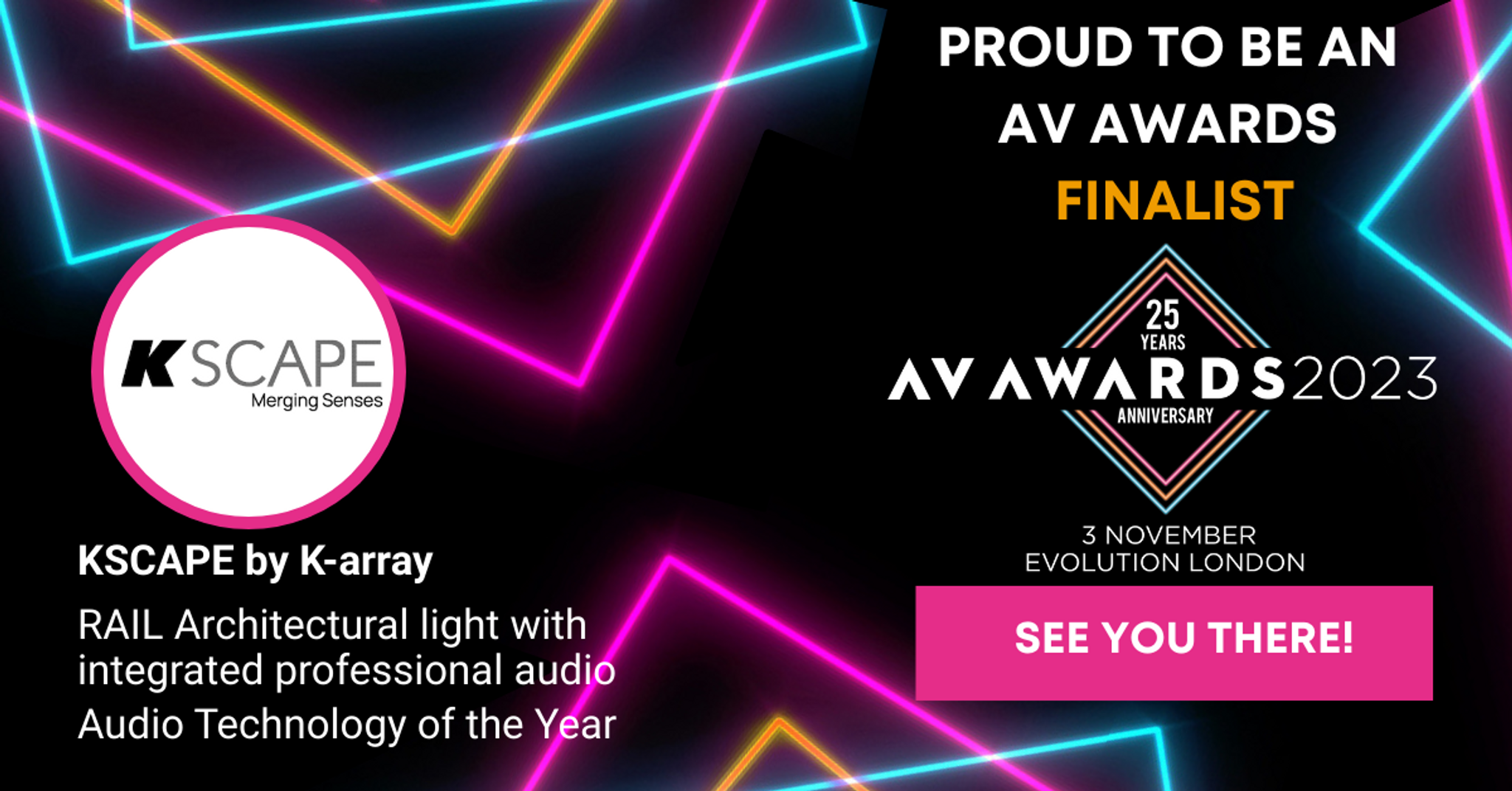 KSCAPE by K-array announced today that RAIL has been nominated for Audio Technology Of The Year in the AV Awards 23. Hailed as a "Game Changer For AV" RAIL will be presented as one of seven finalists for the category at the industries largest international awards ceremony honouring excellence in AV held on the 3rd November in London.
In AV there are few innovations that bridge the gap between professional audio and architectural aspirations. RAIL is the first of its kind to provide an all-in-one solution that combines high quality lighting with a superior professional sound experience.
RAIL puts the importance of audio right at the beginning of a project when lighting is considered and provides a revolutionary platform for integrators to combine these essential technologies delivering an enhanced experience. Furthermore, Merging the two technologies not only reduces energy consumption and wiring labour costs. But the intrinsic wellness factor is also significant. The RAIL offers tunable white and RGBW for changing the mood as aligned with Human Centric Lighting theories. Sound also influences well-being. K-array offers adaptive AI-generated soundscapes that improve cognitive functioning by removing stifling silence, masking the flutter of aircon, and absorbing intrusive conversations that can distract workers in an open office.
As one example, KSCAPE was commissioned by JLL Singapore to revamp their CapitaSpring office. This is a progressive workplace that has a measurement rule they call the 'anxiety rating'. On a scale of 1-10, meeting rooms are rated based on clutter, ease of use of space, etc. K-array installed a simplified control system that meant office occupants could press a button and the surrounding technology was automatically activated to serve their needs – be it a video conference call or something else.
Elvin Foo, Project Manager For JLL Capita Spring said: "With RAIL we were able to solve a number of challenges in one product. It worked very well with the beam steering microphone and the system can be configured to account for a standing or seated audience. This was perfect for us because we did not want to make meetings any more complicated for users and reduce the clutter of technology that you see in many spaces. It also saved on wiring, installing and drafting."
The product is proving popular in museum settings and residential projects too.
Thomas Riby, Global Sales & Marketing Manager for KSCAPE explains: "It is a great honour to be nominated for Audio Technology of the year at the AV Awards, here at K-array we have a talented group of people who all share a rich history of innovation and disrupting the status quo with high quality solutions. KSCAPE is an exciting division of the company with plenty of new technologies to look forward to in the future"
Winners will be announced on 3 November at Evolution, London.
About The AV Awards
Firmly established as the unrivalled badge of excellence for the AV industry - the AV Awards is the benchmark for the highest possible professional standards and best practice, recognising the outstanding achievements of individuals, companies, projects and technology across the AV, events and production sectors.
Since our launch in 1999, the AV Awards have been renowned worldwide for promoting best practice, raising standards and rewarding excellence and innovation across our incredible industry. For that reason, we audit our judging process and categories every year using a carefully curated steering committee to ensure your entries are being properly and fairly evaluated. This way, we ensure our Awards are independent robust and transparent. For 25 years, the AV Awards has grown in status and size, attracting 1,400+ industry professionals from all over the world. It is the biggest and most prestigious night in the AV calendar, where every part of the AV world joins together to network, share successes and, of course, to party.