Harnessing AV technology to transform the workplace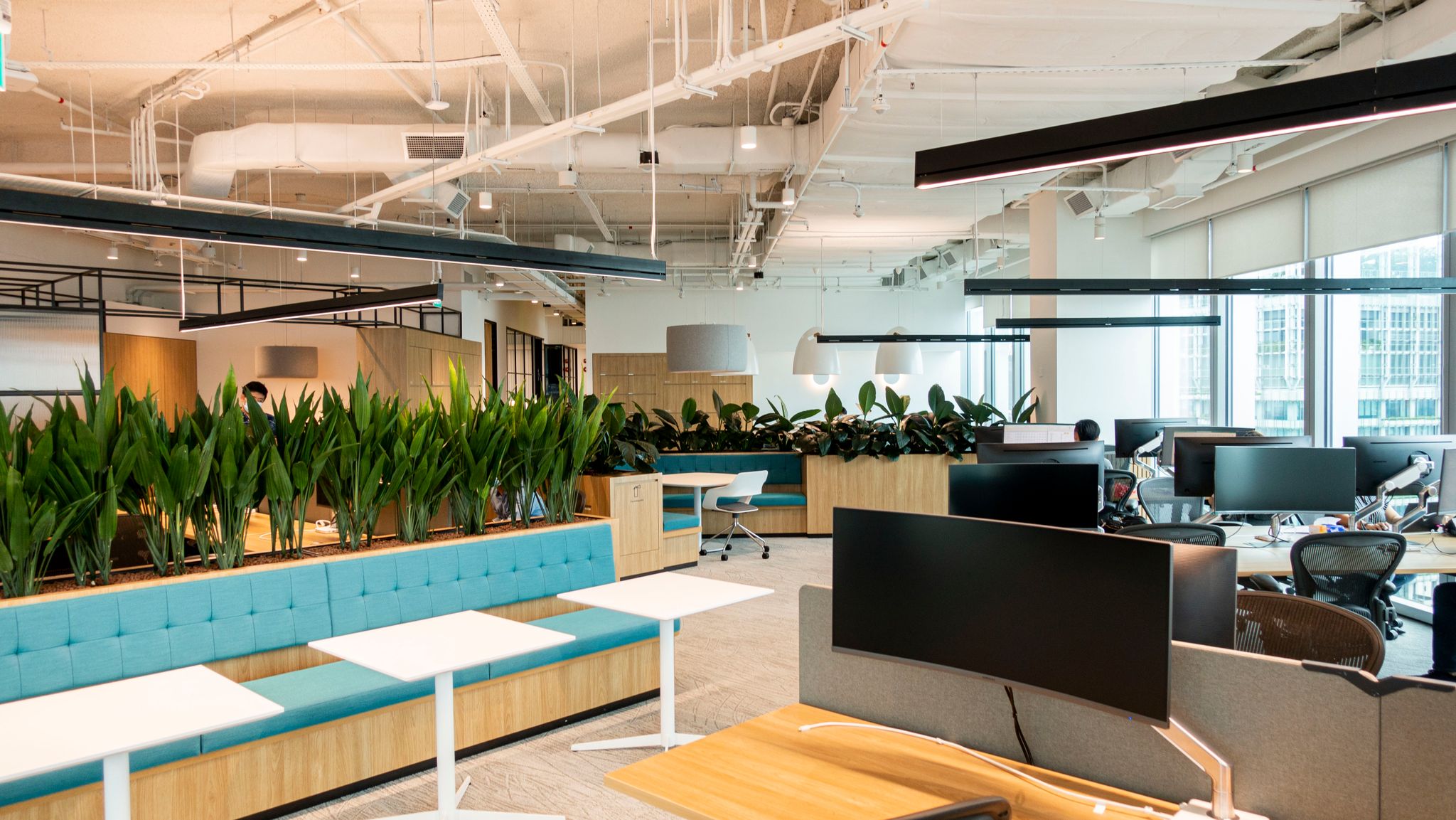 We understand the importance audio can play around the workplace for both employee and customer experience. Whether that be a system for meeting spaces, conference rooms, social areas or the need to make an impact in your lobby or event space. We can also help overcome architectural challenges you often find in modern day buildings made of glass or old factories-come-trendy offices.
Multi-sensory experiences are important even in the corporate world and we love being part of these projects. We've rounded up our top three favourite case studies we've been involved in around the world.
JLL Capita Springs, Singapore
The Challenge
To build the next generation of offices, JLL wanted to optimise every aspect of their new 23,592 sq ft space to create a groundbreaking human centric workplace. One of those areas was sound. The sound of workplaces is intrinsically linked to employees' quality of life and yet it is typically the top complaint in offices. The sound of most workplaces is distracting and stressful, and impacts employee wellbeing. In addition lighting is an essential component to wellbeing within the workplace, not only do they require a light capable of delivering a comfortable performance but also to work with their Crestron ecosystem and create a human centric design to follow the light of the day especially as they have large windows overlooking the city.
The Solution
KSCAPE along with Moodsonic were chosen by JLL's design team and Principle One to improve the quality of employees' experiences using sound. RAIL was installed in six of their meeting rooms. Small meeting rooms installed 2x RAIL units connected seamlessly together while the larger rooms used 4x symmetric linear. Every room had RAIL suspended from the ceiling underneath a Shure beam steering microphone. The audio was powered by 1 Kommander-KA02 amplifier and 1 Rumble-KU44 subwoofer for optimised speech performance without noticing there are speakers in the room.
Happy Customer:
"What we have built in CapitaSpring is the next generation office space"
Chris Archibold - Country Manager, JLL Singapore
"With RAIL we were able to solve a number of challenges in one product. It worked very well with the beam steering microphone and the system can be configured to account for a standing or seated audience. This was perfect for us because we did not want to make meetings any more complicated for users and reduce the clutter of technology that you see in many spaces. It also saved on wiring, installing and drafting."
Elvin Foo - Project Manager, Principle One
Leading FMCG company Newell Brands Corporate Offices, Brooklyn
The Challenge
Newell Brands is a global corporation comprising over 200 brands. The company's Brooklyn branch is home to an entire floor of creative minds and the goal was to harness that creativity and create an environment where people felt free to express and explore new ideas. And since audio plays an important role in fostering this experience, the interior designers required high-quality audio solutions.
Requirements: The setup had to be multi-room to allow the users in different zones to play what they want to hear at a volume they control. The system also needed to be versatile to provide vocal clarity while addressing the entire office environment, as well as power for when music was needed to rock the house. The architecture of the building also played a part in selecting the audio system as the facility was an old coffee factory with beautiful exposed beams, brick and rock.
The Solution
Diversified chose K-array as their go-to audio partner and installed 78 Domino-KF26 full-range speakers and 9 ceiling flushed Tornado-KT2 point source loudspeakers customised in white paired with 12 Rumble-KU26 subs, driven by 4 Kommander-KA84 amplifiers. The ceiling joists have a finite amount of space between them so to achieve a very discreet installation and maintain the high quality of audio that was required, Diversified had to get very detailed to find a product suite that provided not only mid-high speakers but also a subwoofer system that hurdled the mounting obstacle so the sound was easily dispersed across the entire span of the workplace.
Happy Customer:
"Everyone on the floor noticed instantly on opening day that this was not a normal background music system. No matter what genre of music was selected from the streaming services iPad in the gathering area, it was apparent that this was not a normal office space and when people came to see – they were all engaged. It became a social event instantly."
Philip Fortune - Diversified Sound Designer
Global insurance company QBE European HQ, London
The Challenge
With more than 14,500 employees in 37 countries worldwide, QBE is one of the world's top 20 insurers. Its flagship European headquarters in London required audio coverage across multipurpose meeting spaces, reception, events areas and office space as part of a major upgrade of its AV systems. The focal point of the QBE building is the Broker's Lounge, an impressive 31m x 7.5m space mainly used for presentations, although it can be specifically re-purposed to host live events in a 'Town Hall' format, or smaller individual meeting spaces as and when required. The audio team were challenged with creating a flexible loudspeaker system with high-end audio quality and multi-zone coverage that was invisibly integrated into all environments.
The Solution
Supplied by UK distributor 2B Heard, and installed by The Pyramid Group, the system is comprised of an evenly-spaced matrix of down-firing Tornado-KT2 speakers, ceiling mounted and positioned between the slats of the contemporary Hunter Douglas suspended ceiling, flush with the lower edges to avoid any possible diffraction effects. Working within the physical constraints of the ceiling structure, the Tornados offered the best combination of pleasing aesthetics and desired dispersion. The speakers were configured in groups of seven, with each group aimed towards one row of seating directly below. Each group is assigned to a zone on the AMX by Harman touch screen control system, allowing the client to select any combination of zones at a single touch, depending on the room layout and seating. With aesthetics playing such a major factor in the audio system design and in order to maintain an uncluttered floor space, the very compact dual 10-inch Rumble-KU210 subwoofers are also located above the suspended ceiling, requiring only 15 cm of installation space. One sub is assigned to a group of six Tornados.
Happy Customer:
"We worked on a concept that would provide a discreet option. Following initial EASE Focus simulations we then selected a final design, and what we've created is an incredibly uniform near field coverage pattern with a natural listening experience even at high levels, and with absolutely no delay effects. For music, the KU210 subs kick in to give serious bass response down to 42Hz."
"We've put as much control over the sound system in the client's hands as possible. For a music event everything can be full on with subwoofer support, but if they have, for example, a small meeting of only 20 people or so the unused zones can simply be switched off, keeping the audio exceptionally focused. The client is very pleased with the result: the coverage of the room is excellent, spoken word reinforcement is very clear, and the Rumble subs compliment the KT2 Tornados perfectly for a quality music program."
Will Cannon - Senior AV Project Manager for the Pyramid Group