K-array Group Celebrates Brand Ecosystem and Global Network of Distributors at GDM 2023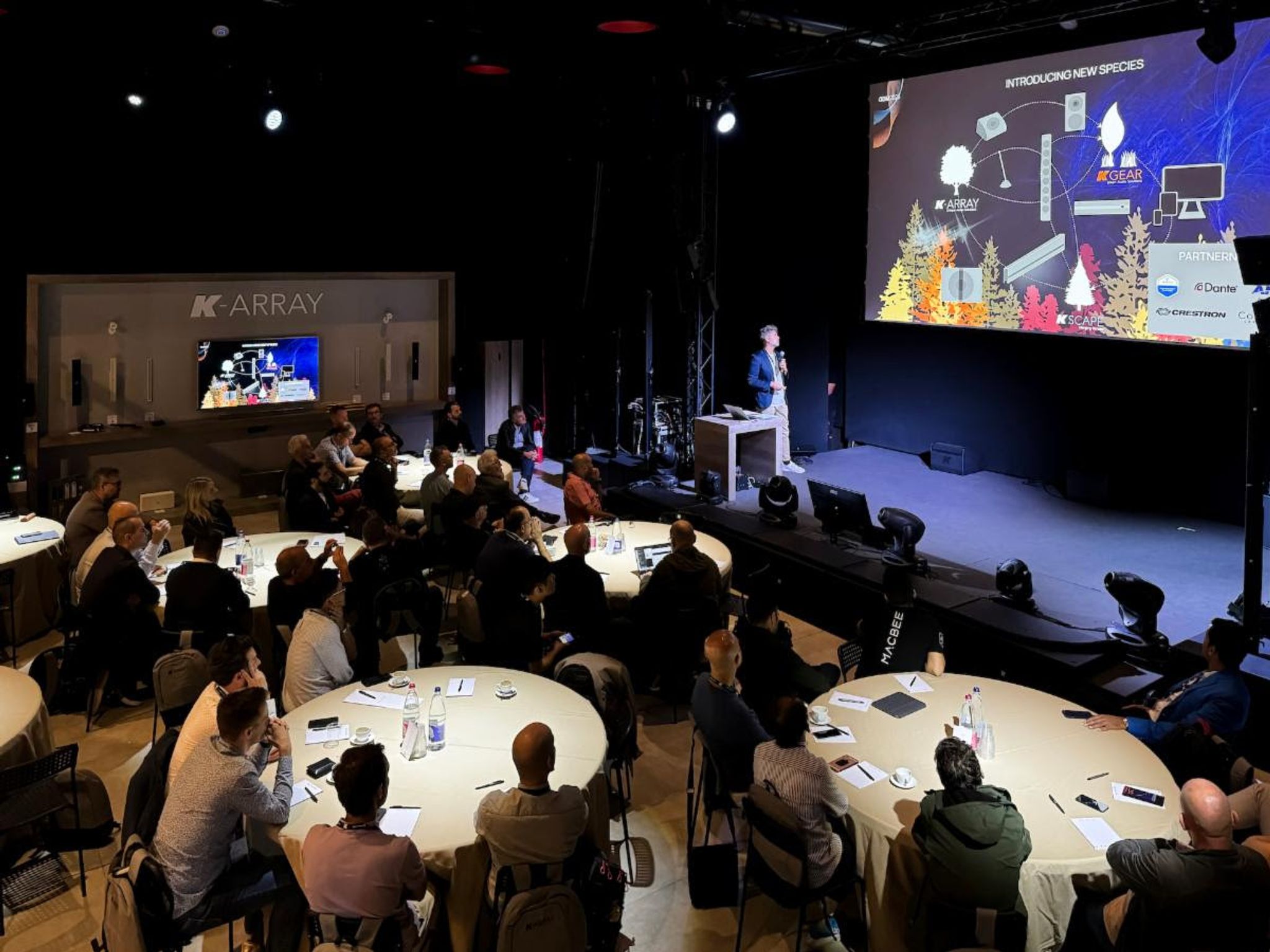 K-array has recently hosted its annual General Distributor Meeting (GDM) at its headquarters in the scenic Tuscan village of Scarperia e San Piero. This year's three-day event welcomed 64 distributors representing 43 countries, a testament to the worldwide reach of the K-array group. Alongside product workshops and presentations from all three K-array brands: K-array, KSCAPE and KGEAR, the GDM also included an awards ceremony, where brand distributors were recognised for their hard work and dedication to the K-array ecosystem.
Indeed, the K-array ecosystem was a key focus of this year's event, concentrating on the coming together of the three K-array brands to offer a complete, yet unique, audio solution. "We are cultivating a complete ecosystem of audio and lighting solutions at K-array," explains Andrea Torelli, Global Marketing Director at K-array. "This is not just a collection of products; it's a living, breathing symphony of innovation. We offer solutions that bring benefits to everyone, and the GDM offers a chance for our clients to understand our key messaging and be able to share the endless possibilities of the K-array ecosystem with systems integrators and end-users in their regions."
Alongside reinforcement of key brand messaging, K-array also announced a series of exciting product advancements, including new additions to the KSCAPE range of professional audio and lighting solutions, enhanced control software and updates to existing installed and live sound product lines across the K-array and KGEAR brands. Hands-on time with new product ranges in dedicated workshops gave distributors the chance to explore the application of K-array's latest technologies in greater depth.
At the highly-anticipated awards ceremony, distributors were recognised for their involvement in projects across several market verticals and across all three brands of the K-array ecosystem. K-array USA received high commendation, taking home three awards for 'Best KSCAPE Integration', 'Best K-Experience Promoter' and 'Best Ecosystem Integration' for their work on a corporate installation at the Armstrong Ceilings headquarters. Moroccan-based Ecma Pro received the coveted 'Distributor of the Year' award for its dedication to promoting the K-array brand family in their region.
Other highlighted distributors included PT Collab Technology, Indonesia, who received the 'Best Concert' award for their multi-stage live event installation at this year's Suara Festival in Bali, whilst Canada's DDH Audio team received the 'Best Residential Project' award for their involvement in a high-end luxury residential installation with outdoor and indoor integrations. Spanish distributor, Adagio, who joined the K-array family earlier this year, took home the award for 'Best Showroom' installation, whilst French distributor AEI were celebrated for their use of KGEAR products within the hospitality industry. Ukrainian integrator, Indigo, received recognition for its work on the Sun Ray Sports Complex, which included the integration of over 100 K-array and KGEAR products.
"It's an amazing experience to be awarded distributor of the year", affirms Federico Colella, audio and acoustics expert at Ecma Pro. "The most important thing is to share the vision of the company and events like this allow us to be aligned on this vision. K-array is a family for us."