University of Cambridge's Dining Hall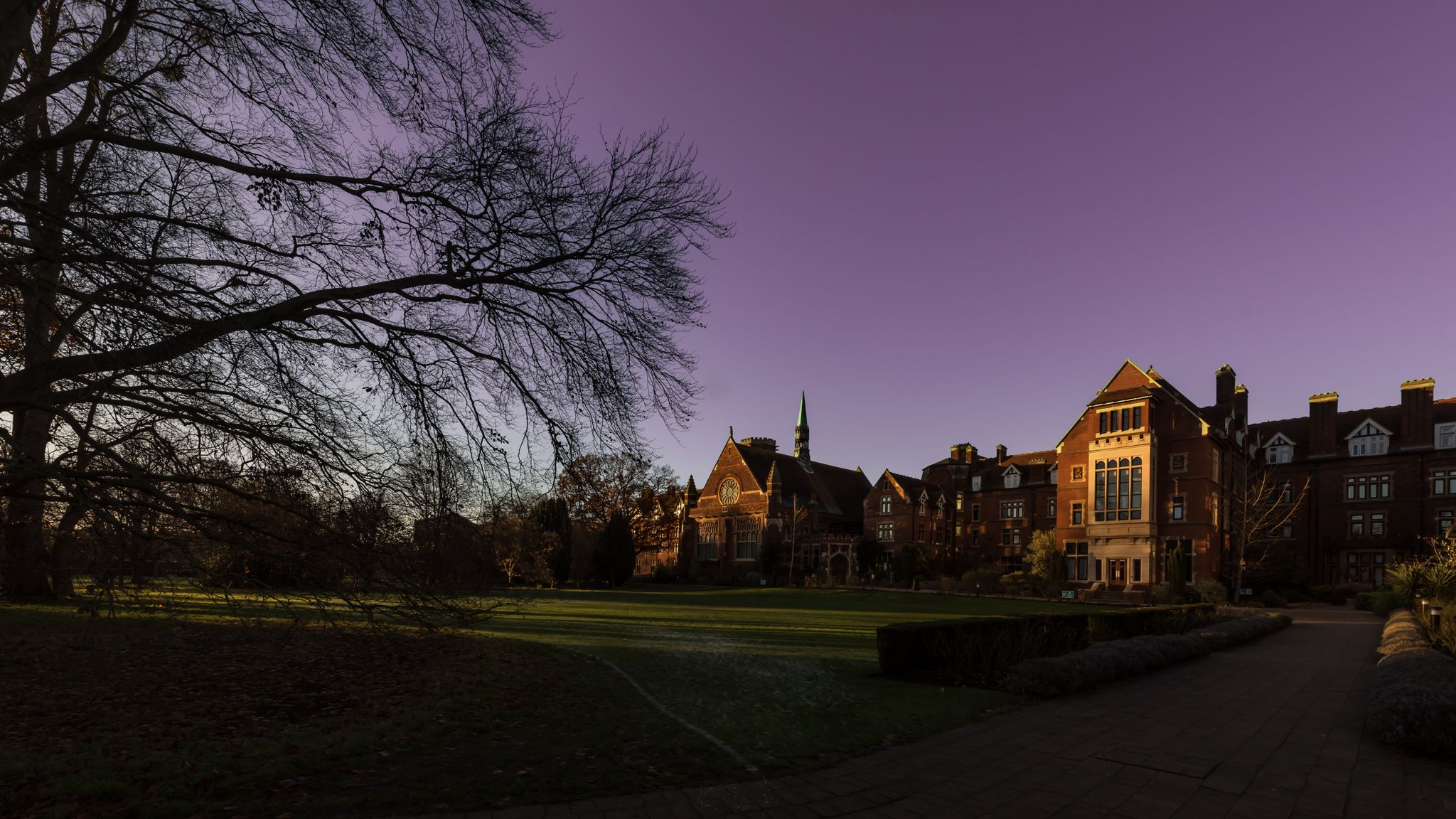 A new K-array sound system has been installed at Homerton College's architect-designed dining hall as part of a multi-million pound extension to the Cambridge college's campus. Providing natural vocal reinforcement in the vaulted dining hall, the Vyper-KV52 line arrays complement the warm timber-panelled interior, blending imperceptibly into the strikingly modern architecture. Originally founded in Homerton, East London, the college relocated to Cambridge in 1894 as a teaching college and only in 2010 became a full part of the University of Cambridge. The city's newest college is also the most populous, with accommodation blocks housing upwards of 900 students, and had outgrown the original the timber clad neo-gothic Great Dining Hall which was no longer sufficient to cope with providing some 1,000 meals a day.
A new dining hall was commissioned early last year with a strong emphasis on design and sustainability and with a requirement for a modern AV facility for speeches and special events. Working alongside architects Fielden Fowles, main contractor Barnes Construction, and electrical contractor DPL, acoustic consultants Max Fordham modelled the acoustics of the 5,000m³ dining hall to evaluate reverberation and noise from diners, resulting in a brief for the engineering team at Winchester-based systems integrators Whitwam AVI, who specified compact K-array line arrays as the ideal solution to fill the space.
An initial audio system design was prepared by Dave Wooster from K-array's UK distributor 2B Heard who mapped the room using K-FRAMEWORK acoustical simulation software, and following planning meetings with the architects and client was further refined and handed over to Andrew Pymm, director of engineering at Whitwam AVI, to implement. "The acoustic consultants had paid a lot of attention to the materials selected for the dining hall, and with Dave's design we were able to satisfy the architects' requirement to blend the speakers against the light ash wood panels that line the triforium and are gently angled to receive light and reduce potential reverberation issues."
The 1,665 sq metre dining hall is covered by just eight Vyper-KV52 RAL colour matched compact line arrays positioned on ball mount brackets at a height of 3.5 metres between the oak beams about 6 metres apart, six aimed towards the minstrel's gallery and a further pair covering the top table. Two Rumble-KU26 subwoofers are installed behind custom grilles in opposite corners of the room, one concealed under a bench on the window side of the room and the other behind panelling at low level.
Two Kobra-KK52 line arrays and eight Tornado-KT2C ceiling mount speakers provide coverage of the Buttery supplemented by two Rumble-KU26 subwoofers, and two Vyper-KV52 line arrays are flush mounted behind custom grilles teamed up with a concealed Rumble-KU44 subwoofer in the reception area. Lapel and hand-held mics are conveniently connected via Sennheiser receivers, controlled by a Q-SYS audio processor from the equipment rack under the stars in the buttery and operated by Q-SYS touch screens in reception and the dining hall service area.
The building itself is a remarkable model of sustainability, clever design and engineering ingenuity. It is an all-electric building, passively ventilated during the summer while in colder months heat is recovered from the kitchen cooking hoods and sent back into the hall. Hot water and heat are provided by ground source heat pumps installed under the lawn. The K-array system has gone down well with Homerton's IT team: "The speaker system was put in right at the end of the 24-month build and the installers had to work in the midst of the floor going in and the wall panels going up – there were 100 people doing 100 different jobs in a very small space. Our team had training on how to use the system and we took over responsibility from there. The system's main use is for speeches and a little music background when required. Honestly, we all worried about such small speakers being up to the task, which is why subwoofers were added, but on the first demo the sound output was seriously impressive considering their size."
"We're delighted with the outcome," said Pymm, "as I believe everyone is. From our perspective this ambitious project went really smoothly, collaboration between the multiple contractors working on-site, the architects, and Nathan at DPL was seamless and we've provided the client with a quality audio system that meets all their requirements and performs extremely well within the spaces."
Intelligibility could have been an issue given the volume of the 400-capacity dining hall but projection has proven to be excellent. Homerton's IT manager commented: "We've had this room full of people with people chatting at the front – and this is also testament to the natural acoustics – and you can hear perfectly from wherever you are in the room. We genuinely didn't believe it would sound as good as it does based on the small amount of equipment, and that has also pleased the architects who are very keen for hardware to be unobtrusive. We're pleased at how well the speakers blend in with the surroundings and how much sound they produce considering the size they are. In terms of feedback from staff and students, if there's ever a problem we are going to hear about it – but there hasn't been a word, no complaints whatsoever. We're very happy with the result."